Epicure
Here, at Epicure, head chef Eric Frechon has created a signature style that is absolutely French. His macaroni stuffed with black truffle, artichoke and duck foie gras, gratinéed with aged Parmesan is one of the most popular dishes that makes people come back for more. Outside one may sit in the beautiful garden set tables throughout the summer.
Some popular items off the menu are:
Purple Sea Urchins
Stuffed Macaroni
Our Royal Style Hare
Le Cinq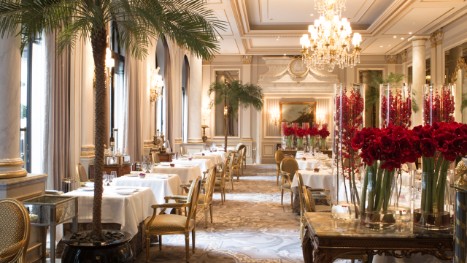 Head chef Christian Le Squer is proud of his restaurant as it has heralded three Michelin stars for the past twelve years. Le Cinq is also known for it's wines. With a beautiful setting the is not only a wonderful place to dine, but also a great way to experience French culture.
Some popular items off the menu are:
Grilled Fillet of Turbot
Crispy Veal Sweetbread
Refreshed Marinated Red Berries
58 Tour Eiffel Restaurant
At 58 Tour Eiffel Restaurant you can enjoy a chic picnic lunch with a great view of Paris. The menu is changed twice a year to keep up with the ever changing world of cuisine. Not only is this restaurante original in the idea of presenting their food in a picnic style you can also come without a reservation.
Depending on what time you come you can get different meals such as:
Duck liver and confit terrine
Trout a la plancha
Comte
Arpege
Opened in 1986, Alain Passard is the owner and head chef of Arpege. He created the restaurant as a tribute to music and has decorated the Arpege in Art Deco. WIth savory taste and chic setting, this restaurant has been up and coming for the past thirty years.
Some popular items off the menu include:
Stuffed Cabbage Leaves
Fine multicolored vegetable ravioli
Bouquet of Roses apple tart